Mitsubishi Electric's automotive equipment technologies are at the core of many general, hybrid and next-generation clean-energy vehicles made by the world's major automobile manufacturers. In addition to supplying ECUs (the brain centre of automotive electronics), alternators, starters, electric power-steering systems and car multimedia systems, Mitsubishi Electric delivers a wide variety of cutting-edge and high-quality automobile components for greater amenity, safety and ecology.

PLEASE NOTE: Automotive equipment from Mitsubishi Electric is sold as original equipment mainly to automobile manufacturers. If you have an enquiry regarding non-aftermarket parts, please contact your car manufacturer or local service dealer.
Product Line-up
Electrification Products
Motors are being electrified at rapid speed with an aim to build vehicles with low environmental burden. In conjunction with this trend, Mitsubishi Electric provides diverse products, such as inverters and motors for hybrid and electric vehicles, towards the realisation of a clean automotive society.
Inverter
Motor
EV Control Unit
Battery Management Unit
Motor Control Unit
On-Board Charger
Charging & Starting Products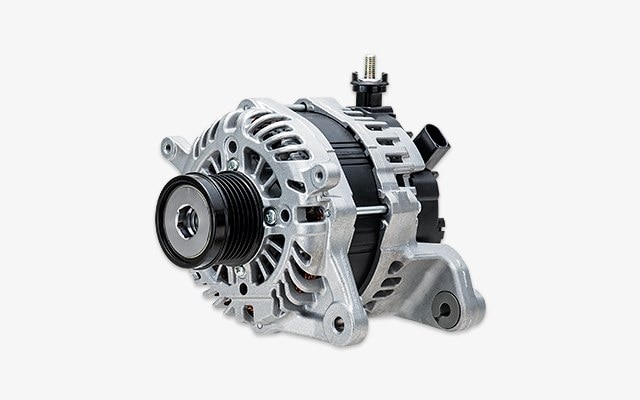 There is growing demand for high-performance electrical engine components as a means for improving fuel efficiency and comfort. Mitsubishi Electric contributes to manufacturing vehicles that lead the times with its compact and lightweight alternators and starters.
Alternator
Starter
Motor Generator
Flywheel ACG
Engine Management Products
Engine control parts comprise the heart of fuel-efficient, high-performance vehicles. Mitsubishi Electric harnesses its advanced technologies and wealth of experience to offer a broad line-up of products that allow even greater engine performance than ever before.
Gasoline Engine Control Unit
Control Unit (for motorcycle/marine)
Revolution Sensor
Air-flow Sensor
Pressure Sensor
Intake-air Temperature Sensor
Injector
Ignition Coil
Fuel Pump Module
EGR Valve
Air Bypass Valve
Turbo Actuator
VVT Actuator
Actuator Drive Unit
Transmission Control Products
Transmission control products largely govern basic vehicle performance. By efficiently conveying total engine power to the tires, Mitsubishi Electric delivers outstanding travel performance and fuel efficiency for greater economic performance.
Transmission Control Unit
Oil Pressure Control Solenoid Valve
Oil Temperature Sensor
Pulse Generator
Electric Oil Pump
Electric Power Steering System Products
Compared to hydraulic power steering, electric power steering minimises engine power loss and offers comfortable driving with excellent stability and steering experience that could not be achieved with hydraulic power steering.
Brush Motor
Brush Motor Control Unit
Brushless Motor Controller Unit
Body Control Products (Vehicle Total Management Products)
Mitsubishi Electric offers highly reliable products that ensure safety and security, such as the smart entry system that combines security and convenience, immobilisers to prevent theft, and airbags for emergency preparedness.
Smart Entry System
Smart Entry System (for motorcycles/marine)
Immobiliser Unit
Body Control Unit
Airbag Control Unit/Sensor
Ultrasonic Corner Sensor
HID Ballast
LED Control Unit
Car Multimedia Products
Mitsubishi Electric brings fun and comfort to the in-car environment with car navigation systems that display easy-to-read maps with simple operations, car audio systems that produce high-quality sounds, and infotainment systems that provide a host of useful information.
Car Navigation System
Rear-seat Entertainment System
Car Speaker
Car Blu-ray Disc™ Player